FREE SHIPPING ON ORDERS over $100.00 in the U.S.: (exceptions are HI, AK, international orders, sewing machines and Martelli tables)
this kit includes the verse panel
Description & Supply List
2020-08-04- Martelli - Online Facebook Live-Free-Motion Stitching for Dimension Workshop – by Rhonda Denney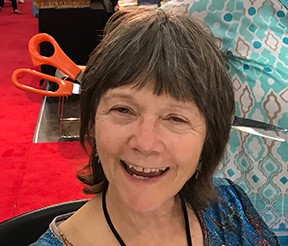 Jump into free-motion stitching! Whether you are a beginner at free-motion stitching or have done it for a while, you learn how to use your sewing machine to add dimension to your quilts!
Don't worry if you have never done free-motion stitching either! Rhonda will start with the basics and you can move on from there. After you get started, you will use a panel created from one of Rhonda's original fiber art creations to practice and learn on.
What you will need:
·
Sewing machine with a free-motion/darning foot, and any sewing accessories you would like to use including extra bobbins, scissors, free motion gloves or Martelli Notions quilting tools.
· As part of this workshop, Martelli Notions will be providing a few different options:
· Option 1: A kit that will include some of the fabric (for backing) and batting you will need along with thread and a 2x12 Martelli ruler and one Panel. However, you will also need to have the following writing implements:
o A pen or pencil to write notes.
o A colored ink pencil or pen. The actual ink color does not matter that much, except it should be contrasting against the worksheet so you can see the lines you make.
o A marking pencil to mark your fabric.
·
Option 2
: You can purchase just the panels alone. Either the eagle panel or the Verse panel.
·
Extra fabric and batting to create additional sandwiched pieces to practice on. Practicing on these will give you more confidence and allow you to experiment with the types of filling stitching you plan to use.
· .Once you receive your kit for this workshop, make extra copies of the various worksheets so you preserve the original version. Then, if you need more copies to practice with, your original is still in pristine shape. Extra copies of these worksheets will allow you to experiment with different ideas for stitching.